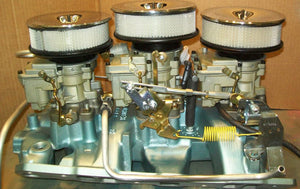 Welcome to Pontiac Tripower
As we come to a close of 2023, we are getting more and more emails and phone calls regarding folks having issues with tripowers they bought recently. The majority of these units have been purchased on E-bay, Craig's list, or even private parties. We have said it 1000 times, Buyer be aware. We are seeing it over and over, center carbs being used as end carbs, ends with wrong throttle bases, wrong air horns. Center carbs that are not correct center carbs. There is not an inexpensive way to correct these so called tripowers. These sellers are very deceiving in the way they describe the tripowers, it is a tripower with three carbs, just that they are not correct tripower carbs. It can be a costly mistake.
As we enter 2023, we want to thank our customers for making 2022 a good business year. Business and traffic to the web page was good considering all.
Considering all, we do our best to keep the Classic car hobby going. We strive to provide the best original parts as well as reproduction parts available. It has been a challenge this last year with the constant price increases. We do our best to keep our pricing below our competition.
We plan on attending the GTOAA National Convention in Springfield, Illinois June 27th- July 1st. We also plan on setting up as we do every year as a vendor at the Ames Performance Nationals in Norwalk, Ohio July 20th- July 23rd. We will be selling parts at Norwalk, but our main objective is to meet and thank our customers, and answer any questions. Stop by and see us!
The restoration business is also good, with tripower units completed and shipped back to customers within the time promised. Nearly all the tripower units Mike and John restore go on cars that are driven to shows and cruise-ins. This is great, as we know these cars were made to drive and enjoy. We have provided several units to Butler Engineering, knowing for building large motors, from 462 to over 500 cubic inches. The tripowers are installed on their motors and run on the dyno. You do give up some horsepower, using a tripower on a large motor, but for a street car, the tripower has lots of eye appeal and plenty of low and mid-range power. I refer to an article in Muscle Car Machines. A strong 461 Pontiac motor was built and run with a 750 cfm Holley and compared to a 66 tripower. The Holley induction motor made 493 HP and peak of 552 ft lbs. torque. The tripower induction unit on the same motor put out 477 HP and 545 ft lbs torque. Only a loss of 7 ft lbs. of torque! I would give up 17 HP for the look of a tripower!
We continue to serve our customers Worldwide with answering questions regarding modifications, restorations and parts. We also have a large variety of parts, expanding the business to include the following:  Listed under "Underhood and Performance Components"
"Tri-power Engine Performance '', to include ram air exhaust manifolds, exhaust gaskets, bolts, hi-torque mini starters, and other performance releated items.
"Tri-power Engine Compartment ", to include carburetor ID tags, chrome valve covers, battery hold downs, coil brackets, hose clamps, hood hinges, and other underhood detail items.
Another new category added, "Restoring Your Throttlebodies", to include before and after restoration photo's, descripition of services avaiable.
We want this page to offer the parts and help needed to restore your tripower, including the small detail parts others do not sell.  We may have small parts and even used original "hard to find " parts available that are not in the shopping cart.  Feel free to e-mail us if you need something you cannot find.  If you prefer to have us do the restoration work, or supply a complete tripower for your vintage Pontiac, we can do that as well. 
We refer to the business as "The Pontiac Tripower Team."  The new page gives you a choice of e-mailing questions to John or Mike.  Questions regarding purchases off the page, or advice regarding what parts you might need, should be directed to John.  However, if you are having issues with your tripower and need advice, direct your question to Mike. If you are considering having restoration work on your tripower done, or build a unit for you, direct the e-mail to either John or Mike.  Click on CONTACT in the gray bar running across the top of the page to reach either of us.
Hopefully, the information on this site helps you to keep your tripower running and looking good. No matter were we are, we are always waiting for the first nice Spring day. I roll down the windows, back out of the drive and take a short ride. With the engine warmed up and running like it should, I finally get to kick all three carbs wide open!!!! Tires scream, carbs how....life is good!
INSTRUCTIONAL TRIPOWER DVD
Mike has been answering questions on these units for nearly 25 years.  Now, you get this information in video form with my narration. The DVD was filmed in my shop, with help from my son,Tim and a professional photographer. 
The DVD is nearly 90 minutes of video, covering many aspects of dealing with Pontiac and Oldsmobile tripowers.   It has an index, so you can click to the area you want to view.  You can see a list of the topics in one of the pictures below.  This DVD has been out since July of 2009.  We have sold quite a few and have received lots of positive feedback.  I received ths unsolicited comment on a popular Pontiac Forum  ...follow this link  http://forums.performanceyears.com/forums/showthread.php?t=610938&highli...   When you go into the shopping cart and click on this item, you can see an additional segment for the DVD.
To purchase this DVD in the shopping cart.  Click here.
To see a second clip off the DVD, please visit the product page.
In the PARTS FOR SALE section, you will find that John has many small parts that are not available elsewhere. John also carrys parts that other suppliers carry. However, we supply pictures of each part, and hints about installation.
In the SERVICES section, we describe services we offer for repair and/or restoration of your tripower.
FREQUENTLY ASKED QUESTIONS is just that. Over the last several years, we have found ourselves answering the same questions over and over. This section address many of those areas. Please read through it before e-mailing us.  When you click on this section above, you will see three more sections, described below.  Once in the FAQ area, you can click on these for more content.
The ID YOUR TRIPOWER section gives intake part numbers as well as pictures. People pick up tripowers at swap meets, garage sales, or from friends. This section should help you identify what you have.
TRIPOWER MYTHS is just that and it is, essentially, Mikes old webpage that his son and Mike put up in 1996. It is still relevant
LETS COMMUNICATE MORE EFFECTIVELY  section has an illustration of a Rochester 2 bbl carb with parts labeled.
In the PHOTOS section, I plan to do several things.  If one of you needs a photo of a tripower related part, or has one to share, let us know. I may post them here with a search function for others to use.  However, I am asking my customers (and others) to send me pictures of your cars. If you want us to give your name, or any interesting details about the car, let us know.
In the NEWS section, I plan to communicate any interesting facts, stories, or hints related primarily to the hobby in general, or specifically to tripowers. Just my way of keeping in touch and getting you to come back from time to time. If you have a something you think would be an appropriate, send me an e-mail, and I may include it.